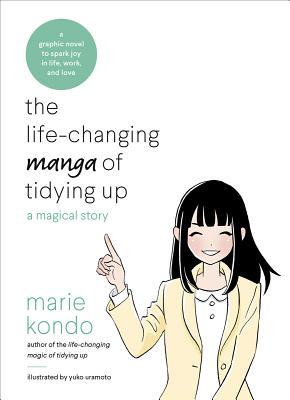 The Life-Changing Manga of Tidying Up: A Magical Story
by Marie Kondo; illustrated by Yuko Uramoto
(Ten Speed Press, 2017, 192 pages)
Marie Kondo, best-selling  author of Life-Changing Magic of Tidying Up: The Japanese Art of Decluttering and Organizing, and Spark Joy: An Illustrated Master Class on the Art of Organizing and Tidying Up, presents her KonMari method of decluttering in graphic novel form. Her subject is Chiaki, a 29-year old Japanese woman with a house so cluttered she can't invite people inside. Embarrassed when a handsome neighbor knocks on her door and sees the mess, she contacts Kondo to give her "tidying lessons." Kondo helps her through the process of discarding clothing, books, papers, and sentimental items—in that recommended order. This is a quick and fun way to learn the KonMari method of decluttering outlined in her previous two books.
5/5 stars