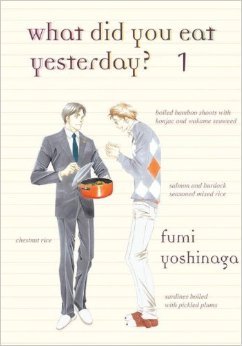 What Did You Eat Yesterday? Vol. 1 by Fumi Yoshinaga
(Vertical, 2014, 200 pages)
I honestly can't remember how this series even caught my eye but the subject matter (fabulous food, relationships, comics) is certainly in my wheelhouse. This was actually my first time reading manga so it was a fun experience to adjust to the different reading format.
The story focuses on two men who are in a relationship. Shiro is a high-powered lawyer who reveals nothing about his sexuality at work. He enjoys spending his free time cooking delicious meals for himself and his partner, Kenji. Kenji works as a hairstylist and owns his sexuality. They occupy very different worlds but they bond over their shared meals.
Yoshinaga offers detailed descriptions of the food Shiro prepares and also includes recipes at the end of each chapter. I appreciated the artistic styling of the book and I'm actually curious to see how Yoshinaga further develops the main characters. There are a lot of plot points introduced in this volume and I'm intrigued by how they might get resolved. I'd give another volume or two a try before making my final decision on the series though as you can see from my star rating, I wasn't blown away by any means.
2/5 stars