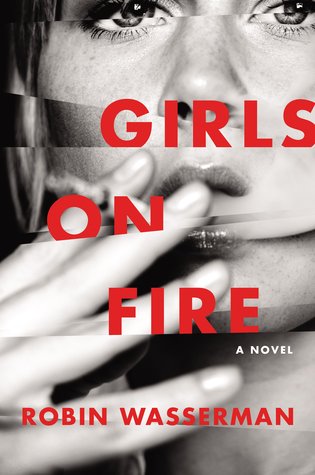 Girls on Fire by Robin Wasserman
(Harper, 2016, 356 pages)
This was the final selection for the spring 2018 Between the Covers book club. Girls on Fire is set in a small town in Pennsylvania in the 1990s; this is at a time when grunge is coming on the scene and the idea that kids are practicing Satanism is scaring parents everywhere. When a local teen is found dead in the woods this only leads parents to worry more about their kids. Hannah exists on the periphery of this apparent suicide. She knew the guy, but they didn't really run in the same circles. What his death does lead her to is a friendship with Lacey. Lacey is the new girl at school who seems to exist in her own world; not caring what anyone else thinks.
As Lacey and Hannah grow closer we learn more about what happened in the woods. We also see Hannah distance herself from the quiet "oatmeal" life she had been living. With Lacey it's like she can be a new person and operate more freely in the world. But with this freedom comes rebellion and unexpected jealousy. Not everyone is happy that Lacey and Hannah have found each other and secrets end up being divulged in ways no one could have expected.
Girls on Fire was most definitely a compelling read. Wasserman keeps you guessing where the book is going to go up to the very end. I knew it was going to be a dark read but I was surprised at how much it got into my head. I needed a literary palate cleanser after finishing this one. Graphic novels and romance quickly found their way to my nightstand. That being said, in spite of the darkness I enjoyed Wasserman's literary talents.
3/5 stars