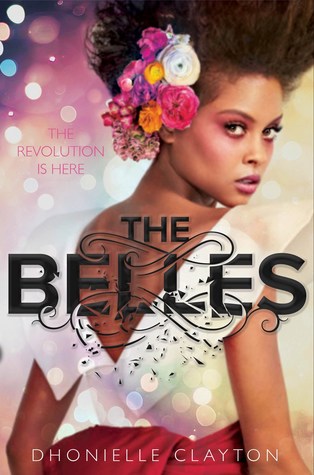 The Belles by Dhonielle Clayton
(Disney-Hyperion, 2018, 440 pages)
I had been eagerly anticipating the publication of this book for a while. This is primarily because it was getting such great buzz but also because it's author is COO for We Need Diverse Books (a non-profit I love) and I was curious to see what she had in the works. This book is the first in a series and I promise that I am compelled to keep up with it. I was honestly surprised at just how much I found myself drawn into the book.
Set in a future world known as Orleans we are introduced to a group of 6 girls known as "The Belles." These girls are responsible for bestowing beauty on the people of Orleans, a population that is born grey and ugly, with red eyes and straw-like hair. The notion of beauty changes based on the royal family and the looks that the Belles come up with. There are no limitations based on skin color, hair texture, body size… it's all based on what the individual wants and believes to be a notable look. Our primary Belle is Camellia and it is through her experiences that we get insight into what is expected of the Belles in addition to uncovering the dark secrets embedded within the royal family.
As I mentioned earlier, I'll be keeping up with the series. I'm frustrated that I'll have to wait since I started the first book almost as soon as it was published. I did note some parallels between details in this book and those from The Hunger Game series but the book stands on its own. And you'll appreciate the lush descriptions Clayton offers up when referring to everything from food to clothing. For a good review of the text that pairs well with my reading of the book feel free to check out Roxane Gay's post on Goodreads.
4/5 stars