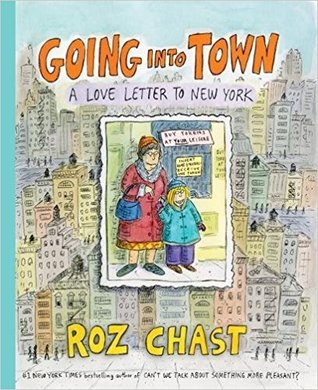 Going into Town: A Love Letter to New York by Roz Chast
(Bloomsbury USA, 2017, 169 pages)
Going into Town: A Love Letter to New York started as a small booklet written by author Chast as a guide to Manhattan for her daughter who was moving there for college. On the first page though, she states, "it's not really a guide book" because, for example, there's nothing in it about the Statue of Liberty. She covers the basics, including the layout of Manhattan, from which I learned that avenues run north and south, while streets run east and west, and the distance between avenues is greater than the distance between streets. I also learned that Manhattan is 2.3 miles across, so you could plug in a toaster on one side of the island, run the cord along 14th Street, and have toast on the other side. Chast's dry wit made me chuckle aloud several times. In addition to the layout of Manhattan, she covers the Subway system, the Met and other museums, parks, food, and apartments. I'm planning to go to New York over the summer and will probably check out this book again before I leave. Even if you're not going there, it's a fun, informative read.
5/5 stars