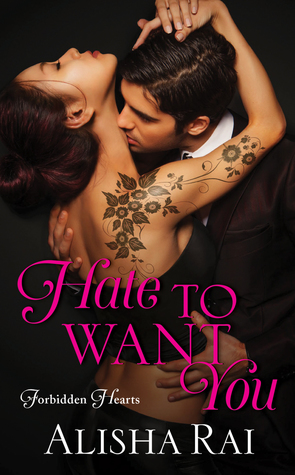 Hate to Want You (Forbidden Hearts #1) by Alisha Rai
(Avon, 2017, 371 pages)
Nicholas and Livvy have established a one-night rendezvous every year for the past decade. That's all they get – one night. Then they go back to not communicating until the following year. The two have a complicated past. They'd been high school sweethearts but a rift between their families forced them apart. When Livvy doesn't show up for her standing date with Nicholas he's not sure how to handle things. He'd been counting down the days each year until he got to be with her. Then he finds out she's back in their hometown and he won't be able to rest until he finds out why she stood him up.
Meanwhile, Livvy can't really believe she's back home. She has spent the past ten years wandering around the country. The only reason she's back is because her mom is recovering from an injury and Livvy wants to be supportive. The last thing she wants is to run into Nicholas… so naturally, he puts himself right in her path.
Nicholas and Livvy struggle to find a way to coexist in the same town without giving in to lustful urges they know will eventually do more harm than good. Even with their families doing everything they can to keep them apart, it's hard to ignore their attraction to one another…
This was my first time reading a book by Rai and I loved it! She was actually recommended as a contemporary romance author I might like by Victoria Dahl (whose romance novels I love). I appreciate the writing, the multicultural cast, and just hearing a new voice. I definitely recommend her. I'm about to start book 3 in the series 😉
4/5 stars