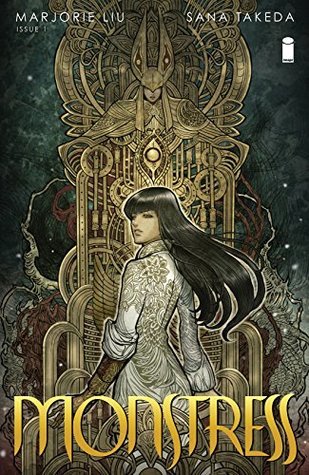 Monstress, Volume 1: Awakening by Marjorie Liu; art by Sana Takeda
(Image Comics, 2015, 72 pages)
Monstress collects the first six issues of the story of Maika Halfwolf, a young Arcanic who has just survived a war with humans as she tries to understand her past and the death of her mother. She is accompanied on her journey by a fox-like child (with whom she had been imprisoned) and a talking cat with two tails.
Inside Maika is a powerful monster she can't control. This dangerous girl becomes hunted after she escapes captivity, steals, and kills. In my opinion, the best part of this book is all the talking cats. At the end of each issue, feline Professor Tam Tam explains the origins of the different races of people and the history of the relationships among them, which is helpful in following the story. Along with a captivating story, this graphic novel is beautifully drawn. Although it features a teenage protaganist, it is extremely violent and contains mature language, so it would be more appropriate for an adult audience. I highly recommend it, but it's not for the squeamish!