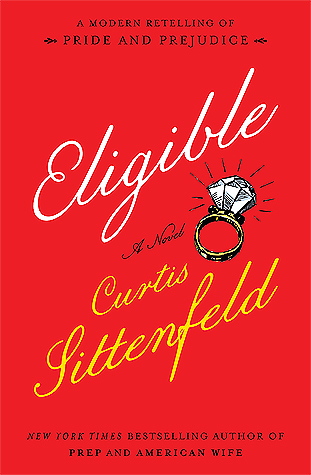 Eligible by Curtis Sittenfeld
(Random House, 2016, 492 pages)
This modern interpretation of Jane Austen's Pride and Prejudice was really enjoyable. Set primarily in Cincinnati. Liz Bennett and her older sister Jane return home from Manhattan to help out as their father recovers from a heart attack. While they're at home they are introduced to two new doctors who have recently moved to the area. One, Chip Bingley, was a former contestant on the television show "Eligible" (a play on "The Bachelor") and he is quickly taken with Jane. The other is Fitzwilliam Darcy, a neurosurgeon who Liz instantly dislikes.
The three younger Bennett sisters all have their own issues they're dealing with. They've managed to stay at home living rent-free at their parent's estate. Now that Liz has returned home, however, it becomes increasingly clear that the Bennett family is going to have to make some serious changes due to their new financial circumstances. As Liz struggles to keep her family afloat (with little to no help from anyone else) she keeps running into Darcy. Could there be something behind the negative interactions they constantly seem to have…?
This was a fun book that read really quickly thanks to Sittenfeld's writing and the short chapters that make up the book. If you're a Jane Austen fan you'll enjoy this retelling. If you're just looking for a good summer read, Eligible covers the bases. Plus, Sittenfeld is a local St. Louis author (and her other novels are great)!