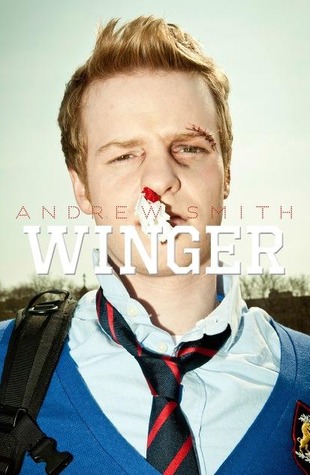 Winger by Andrew Smith
(Simon and Schuster, 2013, 439 pages)
Ryan Dean West is a 14 year old high school Junior. He attends Pine Mountain Academy, a boarding school with students whose families have the kind of money you would need to send your children to boarding school. Even though Ryan Dean is constantly struggling with his "outsider" status (being the youngest in your grade will do that to you) he's found his place on the school's rugby team. He's made some great friends from the team and he's on the varsity starting line-up.
One of the main things Ryan Dean is struggling with are his feelings for his best friend, Annie. She's also a Junior but she has two years on him and he's convinced she'll only ever see him as a little kid. While Ryan Dean battles with these feelings he's also dealing with lots of other things that will impact his life and the way he sees himself in ways he never could have imagined.
This was a really good book. I laughed out loud a number of times while I was reading it and I see why so many people gave it such good reviews. The chapters are short which makes the book read quickly and there are comics interspersed in the text, drawn by Ryan Dean to "accurately" depict what he's thinking or sharing with others. Don't go into this thinking it's all fun, though, because there are some serious issues brought up. If you're into YA or have a teen in your life, this is definitely a book I'd recommend.