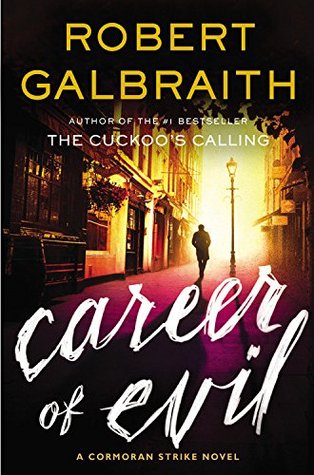 Career of Evil by Robert Galbraith
(Mulholland Books, 2015, 489 pages)
Career of Evil is the third Cormoran Strike novel by Robert Galbraith. In this novel, a women's severed leg is delivered to Strike's office and addressed to his assistant, Robin Ellacott. Strike can think of four possible suspects who might have committed this crime. Strike and Robin try to track three of the four suspects, leaving the fourth for the police to investigate.
Career of Evil is grisly, gross, and gruesome, but I had to finish the novel. It kept me guessing. Any of the suspects could have committed the crime. The clue that Strike used to solve the crime reminded me of an Agatha Christie clue. Most readers are not going to recognize the clue or its significance.
Robert Galbraith (aka J. K. Rowling) does an excellent job in Career of Evil of filling out Strike's and Ellacott's back stories. It makes me wonder if there is more to know. Although this novel was sickening, I will be eagerly awaiting the next Cormoran Strike novel.
You can also check out reviews of this title from Julia and Theresa.