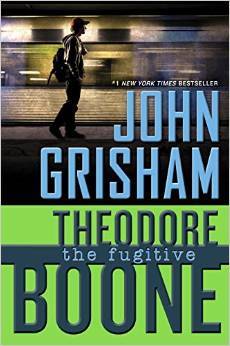 Theodore Boone: The Fugitive by John Grisham
(Dutton Books for Young Readers, 2015, 250 pages)
Theodore Boone: The Fugitive is the fifth book in the Theodore Boone series by John Grisham. In this young adult novel, 8th grader, Theodore Boone, goes on his class trip to Washington DC. While riding the Metro in Washington DC, Theodore spots Pete Duffy who is accused of murdering his wife and jumped bail while awaiting a retrial. Theodore and his Uncle Ike help the FBI recapture Pete Duffy. The remainder of the book deals with the trial of Pete Duffy and the illegal immigrant status of the eye witness who could get Duffy convicted.
Grisham introduced Pete Duffy in Theodore Boone: Kid Lawyer. You didn't have to read that book to understand what is going on in this book. Theodore Boone: The Fugitive has a little cliffhanger at the end. I wouldn't be surprised to see Pete Duffy's name again in a future Theodore Boone novel.
I checked the reviews for Theodore Boone: The Fugitive on Amazon. There were some 1 star ratings because those readers thought that this was a John Grisham novel written for adults. There is definitely a difference between Grisham's adult and young adult novels. Both the adult and young adult novels are well written and enjoyable.