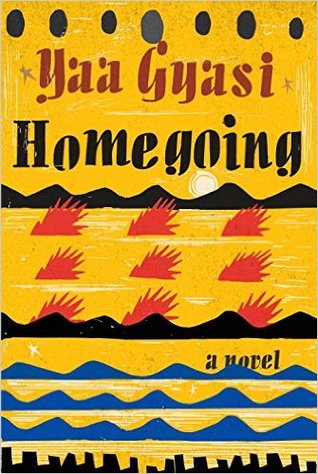 Homegoing: A Novel by Yaa Gyasi
(Knopf, 2016, 320 pages)
I head about Homegoing through the Books on the Nightstand podcast I listen to. One of the hosts mentioned how excited they were for this book to be released this summer 2016. I was lucky enough to get to read an eGalley for this title and it was pretty impressive. If you read The Twelve Tribes of Hattie by Ayana Mathis (which I loved), this novel has a similar feel and will almost certainly appeal to you.
The story begins in 18th century Ghana with two half-sisters, Effia and Esi, that have no idea the other exists. The sisters go down two very different paths – Effia marries a white Englishman and lives quite comfortably, while her sister, Esi, is captured and sold off into slavery. From here the descendants of the two women live lives directly influenced by these matriarchs. The reader experiences the many things changing in America and Africa from the 18th century to the present day through the progeny of these women.
I really enjoyed this book and I think a lot of other people will feel similarly when the book is officially released this summer.