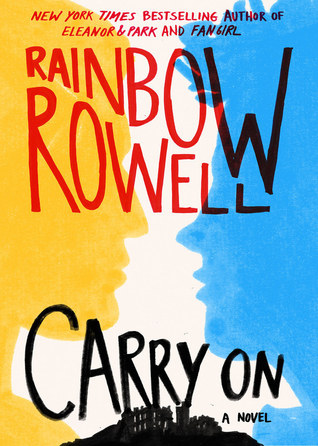 Carry On by Rainbow Rowell
(St. Martin's Griffin, 2015, 522 pages)
Carry On by Rainbow Rowell is the young adult tale of Simon Snow, magic, vampires, friendship, and love. The first quarter of the book reads like a Harry Potter wannabee novel. Simon is 11 years old when he becomes involved in magic. He doesn't know his parents. He is taken to a school of magic. He is the chosen one. The list goes on. But when Simon's roommate, Baz, returns to school after an unexplained absence, the story takes off and becomes more interesting. There are holes in the magic in Great Britain. No one is sure why. Someone is attacking the school of magic. Simon's life is in danger. Simon, Baz, and Simon's friend, Penelope, work together to try to save their magical world.
Simon Snow first appeared in Rainbow Rowell's earlier novel, Fangirl. I did not read Fangirl. I was still able to understand and enjoy the book. Rowell says that Carry On was written as a standalone novel. Once I got past the feeling of "I'm reading Harry Potter all over again," I did enjoy the book. The characters are interesting. There are a couple ghosts thrown in for good measure. I did think there was a loose end or two, but that may be just me.