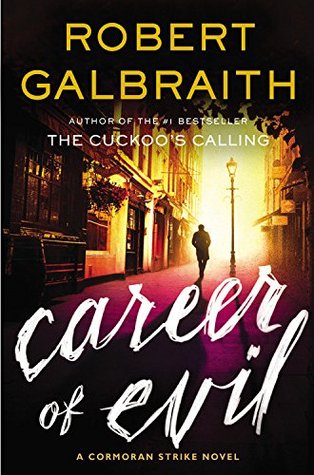 Career of Evil by Robert Galbraith
(Mulholland Books, 2015, 489 pages)
Career of Evil is the third book in the Cormoran Strike series by Robert Galbraith (aka J.K. Rowling). I've really enjoyed the series so far, and this is certainly the darkest and most thrilling of the three. Strike and his assistant, Robin, are trying to find the culprit who sent Robin a woman's leg at the office. Strike has an idea of who it could be, but it's slightly disconcerting that there could be more than one person he can think of that might want to have a leg sent to his office.
As Strike and Robin work to solve the mystery behind the limb's arrival we also get more information about Robin's backstory.
This was definitely an engaging read that kept me guessing. I actually gasped out loud a couple times as I neared the end of the book. I'm looking forward to book 4!
If you haven't had a chance to pick up this series, I'd certainly recommend it.