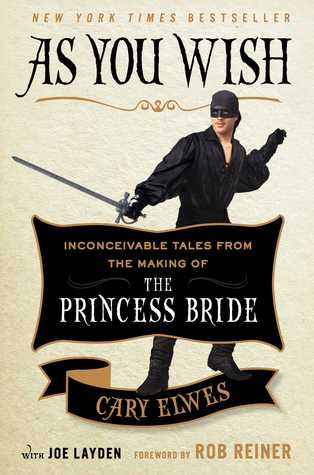 As You Wish: Inconceivable Tales from the Making of The Princess Bride by Cary Elwes
(Touchstone, 2014, 259 pages)
I started listening to the audio verison of As You Wish before I saw the movie The Princess Bride. The first disc was about how the film came to be, how the actors were cast, etc. Then, I thought, "I should probably watch the movie before I go on." After I finished the book, I wanted to watch it again.
The book is written and read primarily by Cary Elwes who played Westley in The Princess Bride. Elwes is a British actor who does a great job with voices, and when he talked about other actors, he could sound like them too. What makes the audio version of this book even more special are the memories shared by director Rob Reiner and other actors, including Robin Wright (Buttercup), Wallace Shawn ("Inconceivable!"), Chris Sarandon, and Christopher Guest, all who read their own segments of the book. Other memories from Mandy Patinkin ("You killed my father; prepare to die!"), Billy Crystal, and Fred Savage are also interesting but are not read by the actors themselves. Still, whoever read their parts did a nice job emulating their voices. Although Andre the Giant (Fezzik) died in 1993 at the age of 46, there are several heartwarming stories about him in the book. Other stories include how certain scenes were shot, such as the trek up the Cliffs of Insanity (Wallace Shawn was terrified of heights); how the great sword fight between Westley and Inigo Montoya  was choreographed; and about injuries sustained on the set by interactions with swords AND an ATV, of all things.
This would have probably been a delightful book even if I hadn't watched the movie after listening to disc 1, but I'm glad I watched it. Now I'll wait for it to come on tv again so I can see when Westley blacks out during a sword fight for real.