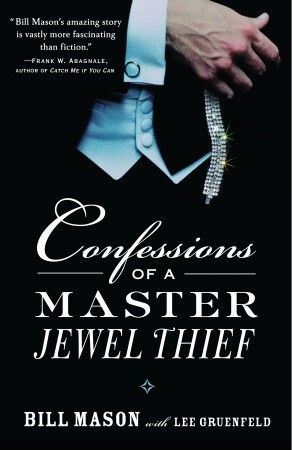 Confessions of a Master Jewel Thief by Bill Mason, with Lee Gruenfeld
(Villard, 2005, 384 pages)
The thrill of a jewelry heist is, for those of us uninterested in prison or any other trappings that may come with that territory, one to be experienced vicariously. Lucky for us, Bill Mason (with Lee Gruenfeld) provides his readers with hours of excitement in Confessions of a Master Jewel Thief. In this page-turner, Mason generously lets us into his mind and life from his somewhat troubled adolescence on the wrong side of the tracks through to his harrowing moment of retirement as a notorious jewel thief. The book moves from the inner drama of what led him to his avocation as a jewel thief, to the outer drama of the heists themselves, from secret and elite Shaker Heights, Ohio clubs to equal parts Florida beaches and prisons.
Mason's account of his life of sparkling crime tends to be more gritty and less glamorous than some fictional accounts of jewel thievery, though the amounts of money with which he deals may raise the eyebrows of some of us with less-well-padded bank accounts. Mason considers, however, the human cost of his exploits – mostly to his family, but also to those from whom he stole jewelry. Readers may find their moral hackles raised at some of what he writes, and some reviewers have remarked upon Mason's willingness to take responsibility for his actions without necessarily working toward any type of repentant justice regarding his crimes. As a reader of this work, though, my interest in the story was primarily in the first-person perspective of a jewel thief, and less as a tale of redemption. While I may have had my own moral scruples toward his story, I appreciated the apparent candor with which Mason tells it.
Those looking for a redemptive morality tale won't find it here – Mason, as many of us do, unabashedly rationalizes his actions. While apologetic toward those he relieved of their jewelry, one senses he has given up his life of crime more due to age and a personal need for peace than any idea of it being inherently wrong to rob people. With all that in mind, if you seek the kind of vicarious thrill that comes from reading about someone else's bad behavior and want to learn more about what it really feels like to commit audacious crimes of this nature, this book certainly delivers the goods.