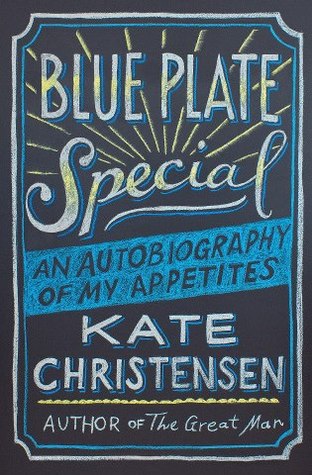 Blue Plate Special: An Autobiography of My Appetites by Kate Christensen
(Doubleday, 2013, 368 pages)
I don't remember what prompted me to reread Blue Plate Special but this time around I was reading it with a different understanding of its author. Christensen has written a number of novels that I really enjoyed. The kicker is that I didn't pick any of them up until after reading this memoir back in 2013. If you've followed my reviews you know that if it's a book that's in some way related to food I'm all over it. So even though I wasn't familiar with Christensen's work, at the time the book sounded like it would appeal to me. And it did.
Rereading this book allowed me to see just how much of herself Christensen has put into her novels. She has a follow-up book coming out shortly called How to Cook a Moose that is meant to pick up where this book left off (where Christensen is happily living in Maine with a man half her age). I'll certainly be reading it because I like this author and I like food-related memoirs.
Even though this book didn't "wow" me, it did turn me on to Christensen's work and I'm so glad it did. You don't need to have read her fiction to appreciate Blue Plate Special, but I think it adds something to the reading experience if you have. For more of a summary of the book you can check out my first review of this title 🙂