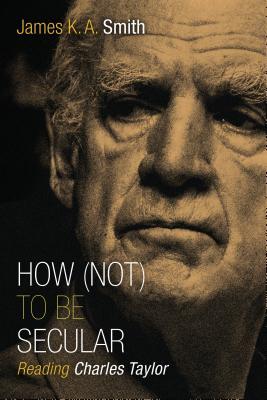 How (Not) to Be Secular: Reading Charles Taylor by James K. A. Smith
(Eerdmans, 2014, 152 pages)
Jamie Smith describes his book as, on the one hand, "a book about a book – a small field guide to a much larger scholarly volume," and on the other hand, as "a kind of how-to manual – guidance on how (not) to live in a secular age" (xi). The book that Smith refers to is Charles Taylor's A Secular Age (2007), the magnum opus from one of the most important contemporary philosophers. Taylor's book is an attempt to both define the different senses in which our period in history can be called "secular," as well as to offer a historical narrative that makes sense of how we have arrived at what Taylor calls the "immanent frame," a social space which defines reality within the natural order without appeal to the transcendent or to God.
One of the major goals of A Secular Age is to show that this "immanent frame" is a construct rather than purely natural. That is, it is not simply an inevitable byproduct of scientific progress. It is not necessarily an obvious, unsentimental, or realistic reading of the world, but rather, a particular construal of or a "take" on the world. Taylor wants to show that the world can also be plausibly read as part of a transcendent reality, a reality which makes sense of more traditional spiritual or religious beliefs. However, for Taylor, we cannot simply revert back to a premodern "enchanted" world. Even for those with religious or spiritual leanings, the "immanent frame" is the inevitable starting point, a shared set of assumptions.
Smith does an excellent job of summarizing and explaining Taylor's ideas. His main goal is "concise commentary, identifying the thread and logic of Taylor's argument in a condensed form" (xi). As he identifies this thread, Smith also attempts to give a sense of the "feel" of Taylor's arguments. That is, he incorporates references to modern literature and music that express the loss or "malaise" of our disenchanted age. Sometimes these references work effectively, and other times they come off as a bit trendy or trite. Pop lyrics are quoted alongside classic literature in a way that could easily date the book. I really love Smith's work, but this is one consistent feature of his books that is mildly irritating.
While his main task is appreciative summary, Smith also picks up and comments on some of the theological implications of Taylor's arguments. Where Smith offers critique of Taylor's project, it is usually from this more explicitly theological stance. One other very helpful feature is the glossary of Taylor's unique terms like "Age of Authenticity," "immanent frame," and "immanentization." Taylor's effective and descriptive use of terminology combined with Smith's concise definitions really help to keep the main features of the book's expansive argument in view.
Compared to much philosophical writing, Taylor is actually quite readable. However, the length of A Secular Age means that many who could benefit from its insight might not tackle it. I have read portions of the book, but I have never attempted to make my way all the way through its nearly 900 pages. For those, like me, who appreciate Taylor or are curious about his unique take on secularization theory, Smith's book is an invaluable resource. Even those who have read A Secular Age would benefit from Smith's critical engagement and the literary parallels that he draws.